VISA TO ATTEND CONFERENCE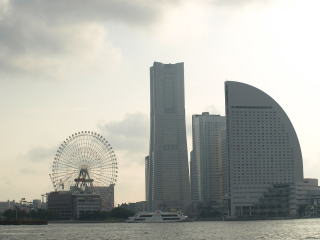 Purpose of going to Japan is attending seminar, international conferences or meetings organized by the private religious group, none-government, none-profit organization etc.
 ※Please refer to PDF file of The Japanese Embassy.
Please Click Here & Download
(Photo: Yokohama, Minato Mirai)
---
All documents must be in A4 size.


Documents of other size must be copied into size A4 and please submit together with the original..

Photo size is 45×35mm(2×1.4in).


Application form and photo size were revised. Please use revised application form and photo(45×35mm).
Please

DO NOT USE FRICTION ERASABLE PEN

in visa application form and in all documents.
Please make sure all documents legally obtained and

DO NOT SUBMIT FALSIFIED DOCUMENTS.

WE FREQUENTLY GET QUESTIONS ON "HOW MUCH"

money should be indicated on the bank certificate.
Although the embassy did not release any guidelines on this or any minimum amount.  It is best to show your biggest but truthful balance.
Please call for personal appearance, requirements and others.
 Please

DO NOT PURCHASE

any form of travel arrangement prior to the release of your visa application results. Delays and Denials do occur.
---
【REQUIREMENTS】
All documents must be original unless otherwise stated.
1: PHILIPPINE PASSPORT
Broken passport is not accepted.
Passports must be signed and must have at least two(2) blank visa pages.
2: VISA APPLICATION FORM (※)
Application Form Size: 

A-4 size

(21.0×29.7cm)
Application form should be filled in all items correctly.
If items is not applicable, please fill in [N/A].
 Application form without date of application, signature and with blank item will not be accepted.
For the date of application, please fill in the date of submission to RELI TOURS AND TRAVEL (or to the embassy in case of direct application).
Embassy may deny the application that is filled in incorrectly or wrong information.
3: PHOTO
Photo size is 45×35mm(2×1.4in) with white background.
Photo must be taken within 6 months.
Please write applicant's name and birthday on back side of the photo.
Photo must be pasted on the application form. -- Please put on glue each corners
4:DAILY SCHEDULE IN JAPAN(TAIZAI NITTEIHYO)  (※)
5:EMPLOYMENT CERTIFICATE/CERTIFICATE OF MEMBERSHIP
For self-employed applicants, please submit a certificate of business registration
6:APPLICANT'S INCOME TAX RETURN(Form 2316) clear photocopy(latest).
7:TRAVEL ORDER/DISPATCH LETTER
8:INVITATION LETTER
9:BUSINESS REGISTRATION(TOKIBO TOHON)
must be issued within one (1) year, original or copy


COPY OF THE LATEST QUARTERLY REPORT(SHIKIHO)




COMPANY BROCHURE




PAMPHLET or any OUTLET OF THE COMPANY/ORGANIZATION

※If invited by Japanese counterpart, please submit requirement 9 and 10.
※If invited by an individual, please submit employment certificate of inviter instead of 10.
10:PROOF OF ACTIVITIES IN JAPAN
Seminar, International Conference Pamphlets etc.
【If counterpart in Japan will shoulder part or all of applicant's travel expenses
11:GUARANTEE LETTER
【If Applicant is not Philippines Nationality】
12:PHOTOCOPY OF APPLICANT'S ALIEN CERTIFICATE OF REGISTRATION(ACR) ISSUED BY THE PHILIPPINES GOVERNMENT.
Foreign residents with long-term or permanent status in the Philippines applying for a visa must submit in addition to the above requirements.
※Visa application of foreigners who are on short-term(temporary) visa in the Philippines can not be accepted.
Please apply at the Japanese Embassy / Consulate General with jurisdiction over the area in resides or the country of which the applicant`s passport was issued.
| | | | |
| --- | --- | --- | --- |
| EXPENSE | |HANDLING FEE P1200 | |VISA FEE--- | |TOTAL P1200 |