---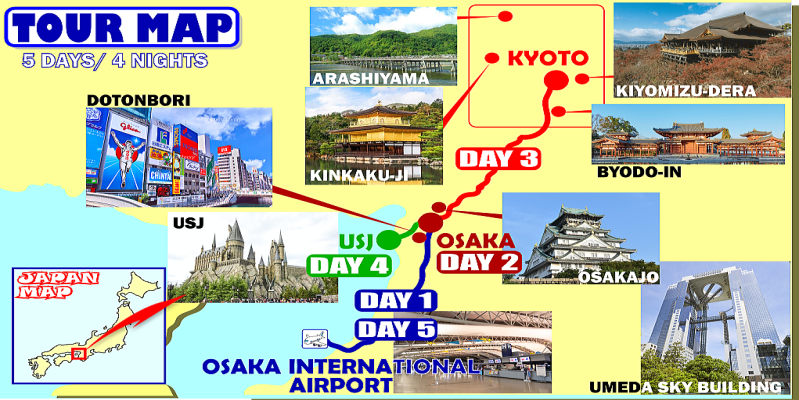 DAY
TOUR
SCHEDULE
MEAL
DAY1
MANILA to
OSAKA
MANILA -- KANSAI INTERNATIONAL AIRPORT -- HOTEL
You will be mat by guide and transfer to hotel by airport limousine bus with guide.
Dinner (pay on the spot) with guide.
B:---
L:---
D:---
DAY2
OSAKA
FULL DAY
CITY TOUR
BREAKFAST AT HOTEL
GUIDED TOUR (9:00~20:00) / YOU CAN SELECT YOUR OWN ITINERARY.
LUNCH and DINNER (PAY ON THE SPOT) WITH YOUR GUIDE.OSAKA-JO CASTLE == UMEDA SKY BUILDING == DOTONBORI (SHOPPING) =HOTEL
B: ○
L:---
D:---
DAY3
OSAKA
FULL DAY
CITY TOUR
BREAKFAST AT HOTEL
GUIDED TOUR (9:00~20:00) / YOU CAN SELECT YOUR OWN ITINERARY.
LUNCH and DINNER (PAY ON THE SPOT) WITH YOUR GUIDE.OPTION A
HOTEL == ARASHIYAMA == KINKAKU-JI TEMPLE == KIYOMIZU-DERA TEMPLE == GION == HOTEL
OPTION B
HOTEL == NIJO-JO CASTLE == NISHIKI MARKET == MANZEN-JI TEMPLE == HEIAN JINGU SHRINE == HOTEL
OPTION C>
HOTEL == SANJU-SANGEN-DO TEMPLE ==
B: ○
L:---
D:---
DAY4
OSAKA
FULL DAY
USJ
BREAKFAST AT HOTEL
GUIDED TOUR (9:00~20:00)
LUNCH and DINNER (PAY ON THE SPOT) WITH YOUR GUIDE.HOTEL == UNIVERSAL STUDIO JAPAN (USJ) == HOTEL
(USJ 1 DAY TICKET)
B: ○
L:---
D:---
DAY5
OSAKA
to
MANILA
BREAKFAST AT HOTEL
HOTEL == OSAKA INTERNATIONAL AIRPORT(KANKU) == NAIA, MANILA ★
GUIDED TOUR WILL BE ADDED DEPENDS ON YOUR FLIGHT SCHEDULE.
B:○
L:---
D:---
◆DOWNLOAD : FLYER
---
PRICE : STANDARD ROOM (HIGHER CATEGORY ROOM AVAILABLE AT HIGH PRICE.)
LOW SEASON : JAN.04 ~ MAR.18, MAY 06 ~ JULY 16, SEP, DEC 01 ~ DEC.27
HIGH SEASON : MAR.19 ~ MAY 05, JULY 17 ~ AUG 31, OCT, NOV (BLACK OUT: DEC 28 ~31)
INCLUDE:
ROUND TRIP AIRPORT TRANSFERS TO HOTEL BY AIRPORT BUS.
PRIVATE GUIDE THROUGHOUT THE TOUR.
TRANSPORTATION FEE & ADMISSION MENTIONED IN THE ITINERARY.
DAILY BREAKFAST.
EXCLUDE: INSURANCE
---
REMARKS
"INSURANCE :
Required (Must have private medical Insurance that in provides adequate coverage and services,including in the case of COVID-19 infection. When Tested Positive during the tour, you need to pay the expenses within the coverage amount of the insurance.
Always wear the mask:
Yes, except for outdoor activities and and Onset hot spring.
Require travelers contact info and agree to Operator privacy policy
When tested positive or become closed-contact:
Required to follow instructions by Operator, Tour conductor, medical institutions and health center.
Itinerary needs to be fixed in advance and cannot have free day during the tour. After Returning to the hotel, if the traveler wishes to go out somewhere near hotel (within walking distance), he/she should inform the guide in advance and record the places visited.
Make sure each Traveler has a method to contact our guide during the tour.
Must Follow the Coronavirus (COVID-19) Control Measures for Safe Travel in Japan. Every Guest has to prepare a Smartphone / device with MySOS app installed (Child over 12yrs old is MUST).
When above hotels are not available, we will offer you alternative hotels with/without additional fee.
In case of early late arrival, additional charge will be required (22:00 PM TO 6:00 AM). Meeting Assistant will give you instruction if no airport shuttle bus directly to your hotel.
※The photographs in this page are just image. The scenery varies acceding to season,weather and time.
TERMS & CONDITION : Nonrefundable & Nonrebookable once finalized
DAY 1: MANILA >> OSAKA
BY YOUR OWN SCHEDULE
DAY 2 : OSAKA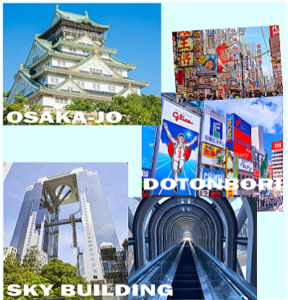 OSAKA-JO CASTLE
Osaka-jo castle is a landmark and the famous tourist spot of Osaka. The origin of Osaka-jo castle was billeted by Toyotomi Hideyoshi,1537-1598. But after Toyotomi Hideyoshi, Tokugawa Iwyasu attacked on Toyotomi Hideyori, son of Hideyoshi, Osaka-jo castele and castle was destroyed by fire. In 1620, the 2nd Shogun of Tokugawa shogunate started reconstruction of Osaka-jo castle.
UMEDA SKY BUILDING
Umeda Sky building is located kita- ward, Osaka city, inside of the composite facilities "Shin-Umeda-City". There are restaurants, Hotel, clinic, movie theater and several kinds shops. The most popular facility is "Kuchu- Teien-Tenbodai", observatory garden of top roof.
DOTONBORI
Dotonbori is one of the most famous site, shopping, tourism.
Several kinds of signboard are very popular, running-man, big crab, gyoza.... .
Let`s take pictures.
DAY 3 : KYOTO OPTION A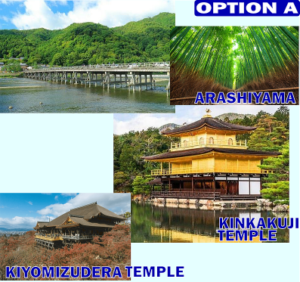 ARASHIYAMA
The part of the western area of Kyoto city is called ARASHIYAMA. There are some temples, Nenbutsu-dera temple, Gio-ji temple, Nison-in temple etc. in this area and famous tourist spot, Togetsu-kyo bridge and chikurin, bamboo forest.
KINKAKU-JI TEMPLE
Kinkaku-ji temple is one of the famous temple in Kyoto.
Kinkaku-ji temple means "Temple of the golden pavilion", was built by Asikaga Yshimitsu, the third Shogun of Murokachi shogunate in 1397. It was destroyed by fire in 1950 and rebuilt.
It was designated as World Heritage in1994. .
KIYOMIZUDERA TEMPLE
It`s said that the Kiyomizu-dera temple was founded by Enchin in 778 AD. The HONDO, main hall, is the national treasure and called "KIYOMIZU NO BUTAI". "BUTAI" means the stage. The number of pillar supporting the BUTAI is said to be 139 and the nail is not used at all.
DAY 3 : KYOTO OPTION B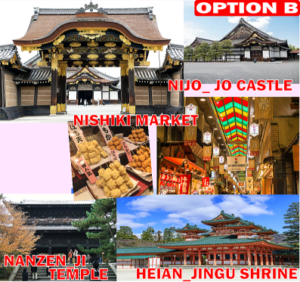 NIJO_JO CASTLE
Nijo-jo castle was built in EDO era (1602 - 1868) as flatland castle.
The Ninomaru-Goten of Nijojo castle is national treasure and designated as World Heritage.
NISHIKI MARKET
KYOTO NISHIKI ICHIBA market a shopping arcade, length is 390 meters and has the history for 400 yeas.
It is called The "KITCHEN OF KYOTO".
NANZEN-JI TEMPLE
Nanzen-ji temple was built by emperor Kameyama in 13th century.
The buildings of the precincts are very famous. The SANMON, main gate of he temple is used for dramas and shooting of movies in particular.
HEIAN-JINGU SHRINE
Heian-jingu shrine was built imitated CHODO-IN of Heiankyo in1895
The height of the Torii-Gate standing approach to shrine is 24.4 meters and is the important cultural property of nation.
DAY 3 : KYOTO OPTION C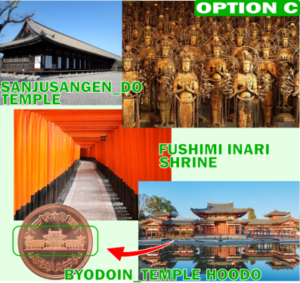 SANJUSANGENDO TEMPLE
The origin was built by Emperor Goshirakawa in 1165.
But buildings were destroyed by fire in1249 and just the main hall was rebuilt in1266.
The principle is SENJU-KANNON, and it is laid with thousand and one other Senju-kannon.
Senju-kannon is one of the stature of Buddhism, has thousand arms.
FUSHIMI-INARI SHRINE
Fushimi-inari shrine is the most popular site for foreign tourist in 2019, before COVID-19 pandemic. Particularly, going through SENBON TORII is popular.
BYODOIN TEMPLE
Byodoin temple is located in Uji city, Kyoto.
HOO-DO is the National Treasure.
HOO-DO is designed surface of 10-yen coin
Let`s bring 10yen coin.
DAY 4 : USJ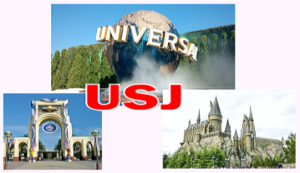 FULL DAY(8:00 ~ 20:00
1 DAY ENTRANCE TICKET WITH GUIDE
DAY 5 : OSAKA >> MANILA
BY YOUR OWN SCHEDULE
GUIDED TOUR WILL BE ADDED DEPENDS ON YOUR FLIGHT SCHEDULE.