---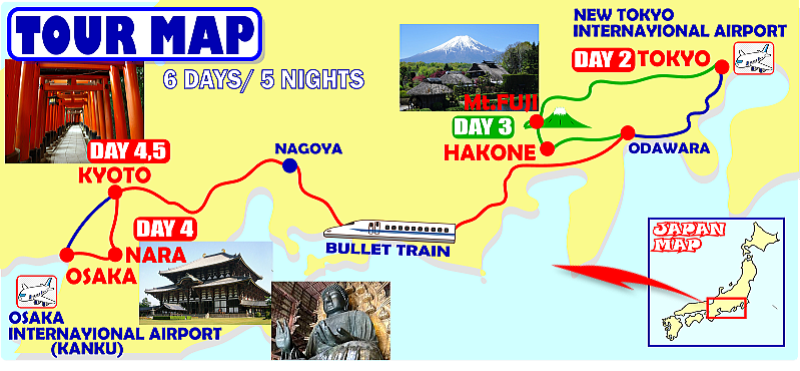 DAY
TOUR
SCHEDULE
MEAL
DAY1
TOKYO
MANILA -- NEW TOKYO INTERNATIONAL AIRPORT, HANEDA or NARITA
YOU WILL MEET A TOUR GUIDE AND TRANSFER TO HOTEL> ★
B:---
L:---
D:---
DAY2

TOKYO


FULL DAY
CITY TOUR
GUIDED TOUR(9:00 -- 17:00)
YOU CAN SELECT YOUR OWN ITINERARY.OPTION A
HOTEL == AMEYOKO MARKET == ASAKUSA KANNON SENSO-JI TEMPLE == SUMIDA RIVER CRUISE == HAMARIKYUU GARDEN == Tea break at GIN ZA - AKIHABARA == HOTEL
OPTION B
HOTEL == MEIJI-JINGU SHINTO-SHRINE == OMOTE SANDO(HARAJUKU) == CROSSING STREET == OBSERVATORY OF TOKYO GOVERNMENT OFFICE == HOTEL
OPTION C
HOTEL == EDO-TOKYO MUSEUM == TSUKIJI == IMPERIAL PALACE(EAST GARDEN or THE DOUBLE BRIDGE) == ODAIBA == HOTEL
B: ○
L:---
D:---
DAY3
MT. FUJI<
and
HAKONE
FULL DAY TOUR
Your main suitcase will be transferred from Tokyo to Kyoto.  Please leave your main suitcase at the ball desk or the front desk by 7:30 am. Travel with an overnight bag your night in Hakone (1 night).
GUIDE YOUR IN MT.FUJI and HAKONE.(8:00 -- 17:00)
HOTEL == Mt.FUJI, the 5th station == HAKONE OHWAKUDANI VALLEY / ROPEWAY == ASHINOKO LAKE CRUISE == HOTEL
B: ○
L:---
D:○
DAY4
KYOTO and
NARA
FULL DAY CITY TOUR
BREAKFAST AT HOTEL

HOTEL (HAKONE) == JR ODAWARA / ATAMI STATION =BULLET TRAIN= JR KYOTO STATION =KINTETSU LINE = NARA STATION -== NARA TODAI-JI TEMPLE/ GREAT BUDDHA -- NORA DEER PARK == HOTEL

B: ○
L:---
D:---
DAY5
KYOTO
FULL DAY CITY TOUR
GUIDED TOUR(9:00 -- 17:00)
YOU CAN SELECT YOUR OWN ITINERARY.OPTION A
HOTEL == ARASHIYAMA == KINKAKU-JI TEMPLE == KIYOMIZU-DERA TEMPLE == GION == HOTEL
OPTION B
HOTEL == NIJO-JO CASTLE == NISHIKI MARKET == NANZEN-JI TEMPLE == HEIAN-JINGU SHRINE == HOTEL
OPTION C
HOTEL == SANJU-SANGEN-DO TEMPLE == FUSHIMI-INARI TAISHA SHINTO SHRINE == BYODO-IN TEMPLE / Tea ceremony == HOTEL
B:---
L:---
D:---
DAY6
OSAKA
to MANILA
HOTEL == OSAKA INTERNATIONAL AIRPORT(KANKU) == NAIA, MANILA ★
The exact pick-up time will be informed by the hotel staff on the DAY 5. approximately 4 hours prior your flight.
B:---
L:---
D:---
PRICE : STANDARD ROOM (HIGHER CATEGORY ROOM AVAILABLE AT HIGH PRICE.)
LOW SEASON / JAN, FEB, JUN, JULY & DEC.
HIGH SEASON / MAR, APRIL, MAY, SEP, OCT & NOV.
Exclude: Insurance, RT-PCR test
(Unvaccinated / No booster shot individuals need RT-PCR return to Philippines)
※The photographs in this page are just image. The scenery varies acceding to season,weather and time.
TERMS & CONDITION : Nonrefundable & Nonrebookable once finalized
◆DOWNLOAD : FLYER
DAY 2 : TOKYO / OPTION-A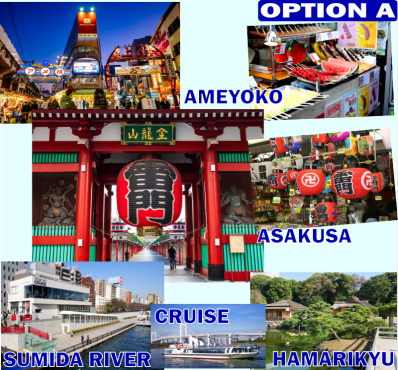 AMEYOKO
Ameyayokocho is located in Taito ward, Tokyo, near the JR Ueno station and Okachimachi station, an open air market.
It is said that the price becomes cheaper depending on negotiations. Let`s try say...MOTTO YASUKU-SHITE! (Please more discount!)
SENSO-JI TEMPLE
Asakusa senso-ji is also called ASAKUSA-NO- KANNONSAMA. The official name is KINRYU-ZAN SENSOJI. It was founded in 645 AD, the oldest temple in Tokyo.
The main gate is called KAMINARI-MON, A big paper Lantern, called CHOCHIN, is hanging and two big Deva statues are enshrined fat the both side of gate.
Nakamise shopping arcade is a street on the approach to the main hall of temple. The tourist can find the rare souvenir, paper lantern, Japanese traditional clothes, wig of the samurai and others.
SUMIDAGAWA_RIVER_ CRUISE
The Azumabashi- bridge is located within walking distance from Senso-ji.
Let` us enjoy the SUMIDAGAWA river CRUISE from Azumabashi boat station to Hamarikyu.
DAY 2 : TOKYO / OPTION-B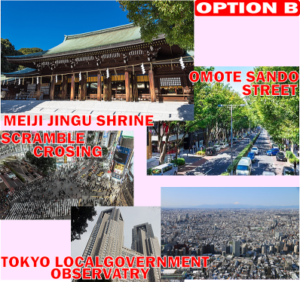 MEIJI JINGU SHRINE
Meiji-jingu shrine is located in Shibuya ward, Tokyo. It is dedicated to the deified of Emperor Meiji and Empress Shaken.>
HARAGUKU OMOTE SANDO STREET
OMOTE-SANDO is the main street on the approach to the Meiji-jingu shrine. Currently, it is one of the most fashionable street in Tokyo.
SHIBUYA SCRAMBLE CROSSING
Shibuya scramble crossing, pedestrian crossing is located near the JR Shibuya station. This crossing is the most popular crossing in Japan.
STREET OBSERVATORY (TOKYO GOVERNMENT OFFICE)
There is the observatory at the 45the floor of the Tokyo Local Government building and the height of it is 202 meters. Tourists can overlook Tokyo and see the Mt.Fuji If weather condition is good,
DAY 2 : TOKYO / OPTION-C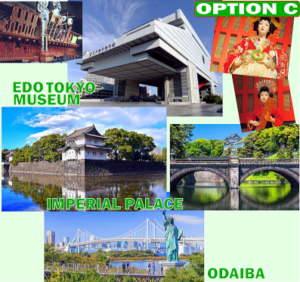 EDO TOKYO MUSEUM
"  EDO TOKYO MUSEUM is a historical museum, located at Sumida ward, Tokyo.
Tokyo was called "EDO" until 1868 AD, the end of SAMURAI government,Tokugawa shogunate.
This museum was opened in March 1993 and is the first museum built history of Tokyo.
IMPERIAL PALACE
Imperial palace was the castle of Tokugawa shognate till 1968.
The Emperor of Japan and family were living in Kyoto since 9th century.
The TOKUGAWA SHOGNATE fell and MEIJI government started at Tokyo. The Emperor and family transferred to Tokyo and living in Imperial palace.
ODAIBA
"DAIBA" was initially built in this area for defensive purposes in the 1850s. In the late of the 20th century, Odaiba was developed as major commercial , residential , leisure area.
DAY 3: FUJI & HAKONE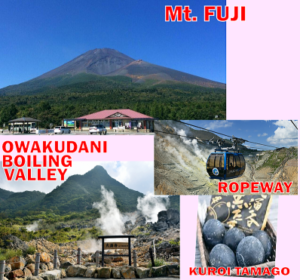 Mt.FUJI
The Height of Mt. Fuji is 3776 meters abobe sea level, The highest and famous mountain in Japan.
OWAKUDANI BOILING VALLEY
Owakudani is a volcanic valley with active sulphur vents and hot springs in Hakone.
The scenery from the ROPEWAY is a superb view.
That scenery is called HELL VALLEY, Jigoku-dani in Japanese language.
KURO TAMAGO
The KURO TAMAGO," BLACK EGG" is local specialty of egg hard-boiled in the hot spring. The eggs turn Black and smell slightly sulphuric. It is said eating egg add seven years life.
DAY 4 : HAKONE >> KYOTO, NARA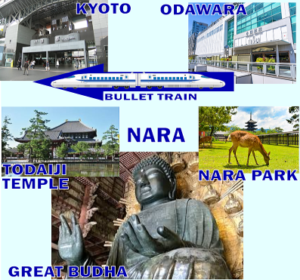 TRANSFER KYOTO VIA BULLET TRAIN
NARA
TODAIJI / GREAT BUDDHA
Todaiji temple is located Nara city, Nara pre. and was founded in the 7th century by Emperor Shomu. It is said that the origin of Todai-ji is Konshu-ji,founded in 733.
DAIBUTSU, great Buddha was made in 752 and is National treasure.
Daibutsu is the principle statue of Kondo hall of Todai-ji temple, it`s called DAIBUTSU-DEN.
The height of Daibutsu is about15 meters, width of face is about 3.2 meters, lengths of hands are about 2.5 meters.and weight is 400tons.
NARA PARK
There are TODAI-JI temple, KOFUKU-JI temple, KASUGA TAISHA shrine and National museum in the NARA PARK. And then, NARA PARK is very famous as SHIKA PARK(deer park).
DAY 5 : KYOTO / OPTION A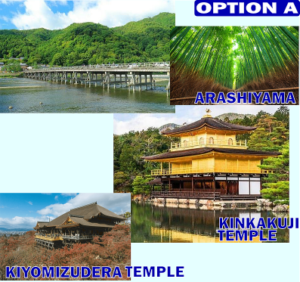 ARASHIYAMA
The part of the western area of Kyoto city is called ARASHIYAMA. There are some temples, Nenbutsu-dera temple, Gio-ji temple, Nison-in temple etc. in this area. And Togetsu-kyo bridge and chikurin, bamboo forest are very popular tourist spots.
KINKAKU-JI TEMPLE
Kinkaku-ji temple is one of the famous temple in Kyoto.
Kinkaku-ji temple means "Temple of the golden pavilion".
Kinkaku-ji temple was built by Asikaga Yshimitsu, the third Shogun of Murokachi shogunate in 1397. It was destroyed by fire in 1950 and rebuilt.
It was designated as World Heritage in1994.
KIYOMIZUDERA TEMPLE,
It`s said that the Kiyomizu-dera temple was founded by Enchin in 778 AD. The HONDO, main hall, is the national treasure and called "KIYOMIZU NO BUTAI". "BUTAI" means the stage. The number of pillar supporting the BUTAI is said to be 139 and the nail is not used at all.
DAY 5 : KYOTO / OPTION B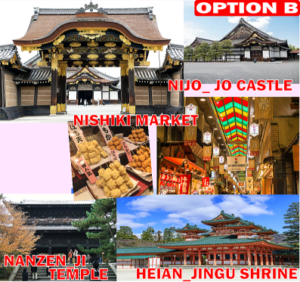 NIJO_JO CASTLE
Nijo-jo castle was built in EDO era (1602 - 1868) as flatland castle.
The Ninomaru-Goten of Nijojo castle is national treasure and designated as World Heritage.
NISHIKI MARKET
KYOTO NISHIKI ICHIBA market a shopping arcade, length is 390 meters and has the history for 400 yeas.
It is called The "KITCHEN OF KYOTO".
NANZEN-JI TEMPLE
Nanzen-ji temple was built by emperor Kameyama in 13th century.
The buildings of the precincts are very famous. The SANMON, main gate of he temple is used for dramas and shooting of movies in particular.
HEIAN-JINGU SHRINE
Heian-jingu shrine was built imitated CHODO-IN of Heiankyo in1895
The height of the Torii-Gate standing approach to shrine is 24.4 meters and is the important cultural property of nation.
DAY 5 : KYOTO / OPTION C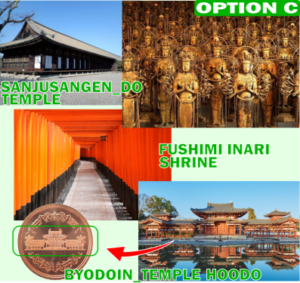 SANJUSANGENDO TEMPLE
The origin was built by Emperor Goshirakawa in 1165.
But buildings were destroyed by fire in1249 and just the main hall was rebuilt in1266.
The principle is SENJU-KANNON, and it is laid with thousand and one other Senju-kannon.
Senju-kannon is one of the stature of Buddhism, has thousand arms.
FUSHIMI-INARI SHRINE
Fushimi-inari shrine is the most popular site for foreign tourist in 2019, before COVID-19 pandemic. Particularly, going through SENBON TORII is popular.
BYODOIN TEMPLE
Byodoin temple is located in Uji city, Kyoto.
HOO-DO is the National Treasure.
HOO-DO is designed surface of 10-yen coin
Let`s bring 10yen coin.