---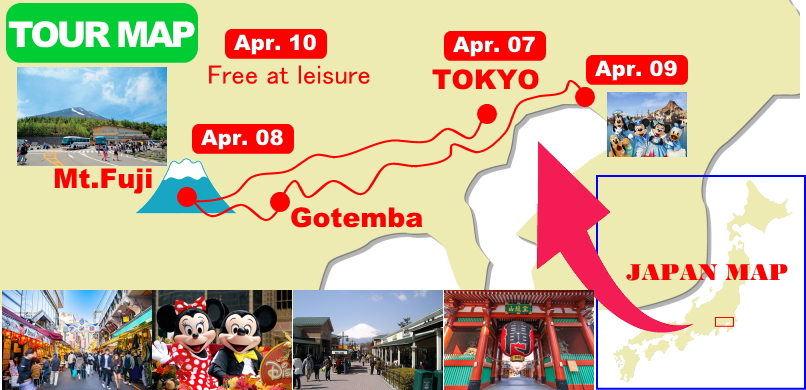 DAY
TOUR
SCHEDULE
MEAL
DAY1
(Apr.6)
NARITA ARRIVAL - TOKYO

[12h10]
Arrive at Narita International Airport (NRT) by

PR-428.


Welcomed by English-speaking assistant/guide at arrival lobby after immigration and custom formalities.
[13h30]
Leave the airport for the hotel in Tokyo by private bus.
[15h00]
Check-in at the hotel.
Free at leisure till dinner time.
[17h30]
Leave hotel for dinner venue by private bus.


[18h00-19h30]


Dinner: at a local restaurant
[20h00]
Back to the hotel
B:---
L:---
D:○
DAY2
(Apr.7)
TOKYO

Breakfast: "Buffet" at hotel
Met by English-speaking guide at hotel lobby.
[09h00]
Leave hotel for a full-day sightseeing tour in Tokyo by private bus.
Visit: Meiji Shrine, Hinode Sanbashi (Pier), and Sumida river cruise (60min)


[13h00-14h00]


Lunch: at a local restaurant
Asakusa Kannon Temple with Nakamise arcade, and Ueno Ameyoko District


[18h00-19h30]


Dinner: at a local restaurant


[20h00]


Back to the hotel.
B: ○
L: ○
D: ○
DAY3
(Apr.8)
TOKYO-MT.FUJI-GOTEMBA-TOKYO

Breakfast: "Buffet" at hotel
Met by English-speaking guide at hotel lobby.
[08h00]
Leave hotel for a full-day sightseeing tour in Mt. Fuji & Gotemba by private bus.
[10h00]
Visit: 5th station of Mt. Fuji (if weather permit)
Lunch: at a local restaurant
Proceed to Gotemba by private bus.
Visit: Gotemba Premium Outlet
Leave Gotemba for the hotel in Tokyo by private bus.
[19h00]
Back to the hotel
[19h30-21h00]
Dinner: at a local restaurant
B: ○
L: ○
D: ○
DAY4
(Apr.9)
TOKYO-DISNEY LAND/SEA-TOKYO

Breakfast: "Buffet" at hotel
[xxhxx]
Met by English-speaking guide/assistant at hotel lobby.
Transfer to Tokyo Disney Land/sea by private bus.
Visit: Enjoy Tokyo Disneyland (NO guide entrance)
Lunch: NO ARRANGEMENT
Dinner: NO ARRANGEMENT
Met by English-speaking guide/assistant at the entrance again


[xxhxx]


Transfer back to the hotel by private bus.


[xxhxx]


Back to the hotel.
B: ○
L:---
D:---
DAY5
(Apr.10)
TOKYO

Breakfast: "Buffet" at hotel
Free at leisure
Lunch: NO ARRANGEMENT
Dinner: NO ARRANGEMENT
B: ○
L:---
D:---
DAY6
(Apr.11)
TOKYO - NARITA DEPARTURE

Breakfast: "Buffet" at hotel
Met by English-speaking guide/assistant at the lobby of the hotel.


[10h00]


Transfer to Narita International Airport (NRT) by private bus.


[11h30]


Check-in at the airport.


[13h40]


Leave NRT for MNL by xx-xxx.
B: ○
L:---
D:---
* The above schedule is subject to change on the actual flight schedule.
* The bus service hour must be maintained within 11 hours per day.
---
INCLUDED:
・Airfare
・The cost of the Guide, Accommodation, Admission and private bus.
・ Accommodation: Tokyo (5nights)
・Meal: Daily Breakfast.
・Others: Admission fee Day 2,3,4 & 5.
---
EXCLUDE:
Travel Insurance, Visa Fee(PHP 950) & RT PCR / Swab Test
REMARKS:
Insurance: Required (Must have private medical insurance that provides adequate coverage and services, including in the case of COVID-19 infection.
When Tested Positive during the tour, you need to pay the expenses within the coverage amount of the insurance. *
Always wear the mask: Yes, except for outdoor activities and in Onsen hot spring.
Require travelers contact info and agree to Operator privacy policy.
When tested positive or become close contact:
Required to follow instructions by Operator, Tour conductor, medical institutions and health center.
Itinerary needs to be fixed in advance & cannot have free day during the tour. After Returning to the hotel, if the traveler wishes to go out somewhere near hotel (within walking distance), he/she should inform the guide in advance and record the places visited.
Make sure each Traveler has a method to contact our guide during the tour. Must Follow the Coronavirus (COVID-19) Control Measures for Safe Travel in Japan.
When above hotels are not available, we will offer you alternative hotels with / without additional fee.
In case of early / late arrival, additional charge will be required (22:00 PM TO 6:00 AM). Meeting Assistant will give you instruction if no airport shuttle bus directly to your hotel
※The photographs in this page are just image. The scenery varies acceding to season,weather and time.
DAY 1: MANILA >> TOKYO
◆DOWNLOAD : FLYER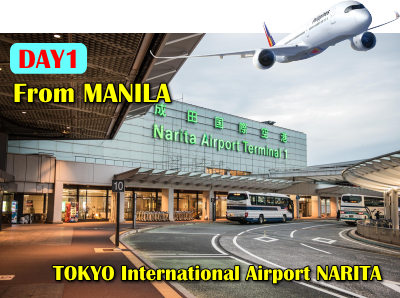 Apr.06 2022 
Arrive at Narita International Airport (NRT) by PR-428.
Welcomed by English-speaking assistant/guide at arrival lobby after immigration and custom formalities.
Leave the airport for the hotel in Tokyo by private bus.
Check-in at the hotel.
DAY 2: TOKYO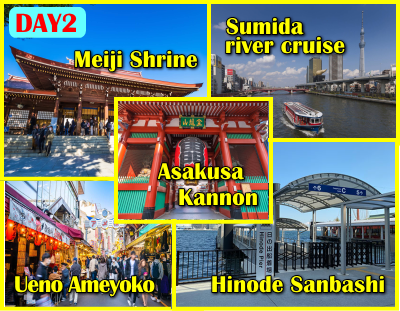 MEUJI SHRINE
Meiji-jingu shrine is located in Shibuya ward, Tokyo. It is dedicated to the deified of Emperor Meiji and Empress Shaken.

SUMIDA RIVER CRUISE
The Azumabashi- bridge is located within walking distance from Senso-ji.Let` us enjoy the SUMIDAGAWA river CRUISE from Azumabashi boat station to Hamarikyu.
ASAKUSA KANNON
Asakusa senso-ji is also called ASAKUSA-NO- KANNONSAMA. The official name is KINRYU-ZAN SENSOJI. It was founded in 645 AD, the oldest temple in Tokyo.
The main gate is called KAMINARI-MON, A big paper Lantern, called CHOCHIN, is hanging and two big Deva statues are enshrined fat the both side of gate.
Nakamise shopping arcade is a street on the approach to the main hall of temple. The tourist can find the rare souvenir, paper lantern, Japanese traditional clothes, wig of the samurai and others.
UENO AMEYOKO
Ameyayokocho is located in Taito ward, Tokyo, near the JR Ueno station and Okachimachi station, an open air market.
It is said that the price becomes cheaper depending on negotiations. Let`s try say...MOTTO YASUKU-SHITE! (Please more discount!)
DAY 3: Mt. FUJI - GOTEMBA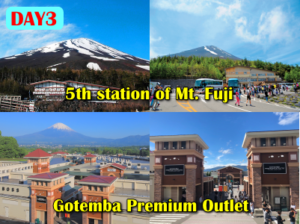 OWAKUDANI BOILING VALLEY
Owakudani is a volcanic valley with active sulphur vents and hot springs in Hakone.
The scenery from the ROPEWAY is a superb view.
That scenery is called HELL VALLEY, Jigoku-dani in Japanese language.
5th STATION OF Mt.FUJI
The Height of Mt. Fuji is 3776 meters abobe sea level, The highest and famous mountain in Japan.
GOTEMBA PREMIUM OUTLETS
The Gotemba Premium Outlets are Japan's most popular outlet mall, located in Gotemba City at the base of Mount Fuji, not far from Hakone. The mall features around 300 stores and restaurants, a food court, a 50 meter high Ferris wheel, a hotel and a public hot spring bath.
DAY 4 : TOKYO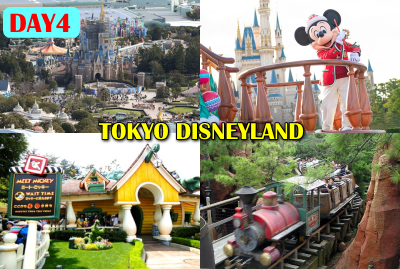 TOKYO DISNEY LAND/SEA
Tokyo Disney Resort
Tokyo Disney Resort is comprised of the two theme parks Tokyo Disneyland and Tokyo DisneySea, the Ikspiari shopping mall and multiple resort hotels. It is located just a 15 minute train ride from Tokyo Station.
DAY 5 : KYOTO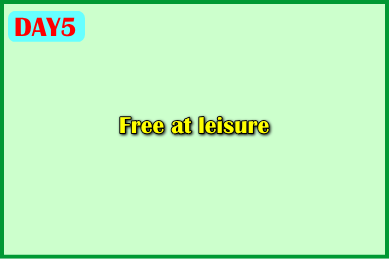 FREE AT LEISURE