---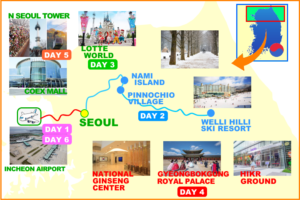 DAY
TOUR
SCHEDULE
MEAL
DAY1

Dec. 26
TUE.

MANILA
TO
SEOUL
(OZ 702 MNL-ICN 12:05pm-4:40pm) >>Arrival at Incheon International Airport
>> Dinner >> Hotel(Incheon Royal Emporium Hotel)
B:---
L:---
D: ○
DAY2

Dec.27.
WED.

NAMI ISLAND
SKI RESORT

After breakfast,


Hotel >> Nami Island >> Pinnochio Village >> Ski Resort(Welli Hilli Ski Resort)
B: ○
L: ○
D: ○
DAY3

Dec.28
THU.

SEOUL

After breakfast,


Hotel >> Half Day Ski Experience >> Lotte World Theme Park >> Hotel(Travellodge Myeongdong Euljiro Hotel)
Ski Optional : Ski Equipment : 35 USD/pax, Ski Suit : 20 USD/pax.
B: ○
L: ---
D: ○
DAY4

Dec.29
FRI.

SEOUL

After breakfast,


Hotel >> National Ginseng Shop >> Gyeongbokgung Royal palace with wearing Hanbok >>Bukchon Hanok Village >> Cheonggaecheon Stream with HiKR Ground >>
Free time at Hongdae Picasso Street >>Hotel(Travellodge Myeongdong Euljiro Hotel)
B: ○
L: ○
D: ○
DAY5

Dec.30
SAT.

SEOUL

After breakfast,


Hotel >> Cosmetic Chop >> Herbal shop >> N Seoul Tower with Love padlock Wall(Inc. Cable Car, No observatory) >> COEX Mall with Starfield library >>
Free time at Myeongdong Street with duty Free >>
Hotel(Travellodge Myeongdong Euljiro Hotel)
B: ○
L:  ○
D: ○
DAY6

Dec.31
SUN.

SEOUL
TO
MANILA
HOTEL >> (OZ 701 ICN-MNL 7:35am-10:35am) Hotel >> Incheon International airport
B:---
L:---
D:---
<IT CAN BE SUBJECT TO CHANGE AS THE LOCAL SITUATION>
---
◆DOWNLOAD FLYER: SEOUL KOREA 6D/5N DEC. 26 - 31
---
INCLUDE:
. Accommodation as indicated or similar
. Meals as indicated
. Transfers
. Entrance fees
. Sightseeing with English speaking tour guide
EXCLUSIONS:
. Travel insurance
. Meals not specifically noted in the itinerary
. Visas
. Drinks unless specified
. Gratuities
. All international and domestic airfares and airfare taxes unless specified
. Items of a personal nature
DAY 1

OZ 702 MNL-ICN 12:05pm-4:40pm
DAY 2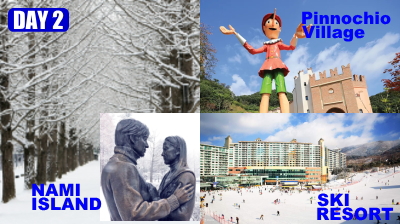 Nami Island
Nami Island is located of east 50 kilo meters of Seoul. And this place is very famous as the shooting place of the drama "WINTER SONATA".
ITALIAN VILLAGE
Pinocchio and Da Vinci
Italian Village was opened on 2021, is Italian theme park and located just next to Petite Frence`s Fraench Village, newest tourist attraction.
The height of giant Pinocchio statue is 10.8 meters. And there are Pinocchio statues in the park.
Enjoy fantastic time.
DAY 3

SKI RESORT - HALF DAY SKI EXPERIENCE
at WELLI NILLI SKI RESORT
WELLI NILLI RESORT is located at Gangwan province, for skiing and snowboading. There are totally 12.3 kilo meters, for beginners easy slope: 3 km, for intermediate: 4.3 km, for advance skills difficult slope:5 km.

SKI OPTIONAL : Ski Equipment : USED 35 / person
Ski Suit : USD 20 / person
Enjoy tayo skiing !!
LOTTE WORLD
LOTTE WORLD is one of the world`s largest theme park, located Seoul city. And it consists of indoor facility, named "Adventure" and outdoor one, named Magic Island" and has various attractions, shows and parades.
(WITH PASSPORT)
DAY 4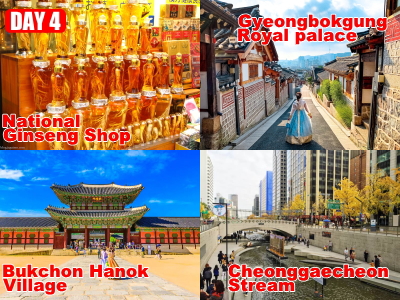 NATIONAL GINSENG GALLERY
The GINSENG is one of the Chinese medicine which is famous from several thousand years. You can see all of the Ginseng, History, effect and others.
Gyeongbok Palace
Gyeongbok Palace is one of five,5, royal palace in Seoul city.
It was built in 1395, was the main royal palace of the Joseon dynasty.
Bukchon Hanok Village
Residential neighborhood in Jongno District, Seoul, South Korea. It has many restored traditional Korean houses, called hanok
Cheonggaecheon Stream
10.9-kilometre-long (6.8 mi) modern public recreation space in downtown Seoul, South Korea. The massive urban renewal project is on the site of a stream that flowed before the rapid post-war economic development caused it to be covered by transportation infrastructure.
DAY 5

N Seoul Tower
known as Namsan Tower or Seoul Tower, is a communication and observation tower located on Nam Mountain in central Seoul, South Korea. The 236-meter (774 ft)-tall tower marks the second highest point in Seoul and is considered a local landmark.
Love padlock Wall
Like the Pont Neuf bridge in Paris, couples head to the tower to lock their "padlock of love" onto the railing and to dream that their love will last forever.
DAY 6
OZ 701 ICN-MNL 7:35am-10:35am