---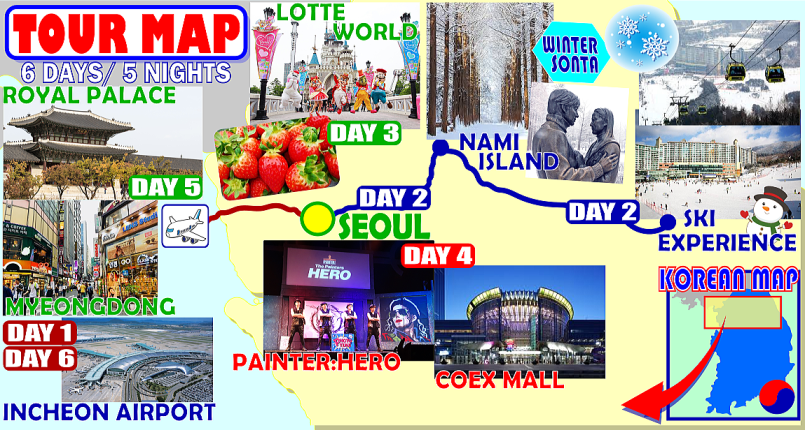 DAY
TOUR
SCHEDULE
MEAL

DAY1

Dec. 26
MON.

MANILA
TO
SEOUL
MANILA(12:15) >> INCHEN(16:55)
Upon Arrival at Airport, meet and greet Tour Guide.
B:---
L:---
D: ○

DAY2

Dec.27.
TUE.

NAMI ISLAND
SKI EXPERIENCE

After breakfast,





HOTEL >> NAMI ISLAND ("Winter Sonata" shooting place) >> SKI RESORT (Half day Ski Experience) >> HOTEL





B: Hotel , L: Stir Chicken with Vega and Rice (Grilled chicken rib & fried rice), D: on Pax own

B: ○
L: ○
D:---

DAY3

Dec.28
WED.

SEOUL

After breakfast,





HOTEL >> STRAWBERRY PIKING Seoul) >> LOTTE WORLD THEME PARK (w/ passport) >> HOTEL





B:Hotel, L: Korean Cuisine, D: Army Stew)

B: ○
L: ○
D:○

DAY4

Dec.29
THU.

SEOUL

After breakfast,





HOTEL >> NATIONAL GINSENG GALLAERY >> COSMETIC SHOP >>COEX (mall with Starfield Library) >> PAINTER`S HERO SHOW WACHING >> HONGDAE PICASSO STREET w/ DALGONA CANDY (squid game) Experience >> HOTEL




B: Hotel, L: Potato Pork Stew, D: Unlimited Korean BBQ.

B: ○
L: ○
D:○

DAY5

Dec.30
FRI.

SEOUL

After breakfast,





HOTEL >> GYEOGBOKGUNG ROYAL PALACE >> NATIONAL GINSENG CENTER >> COSMETIC SHOP >> GWANGJANG TRADITIONAL MARKET >> MYEONGDONG STREET w/ DUTY FREE >> HOTEL

B: Hotel, L: Ginseng Chicken Soup, D: Bibimbap + Pan Cake.

B: ○
L:---
D:---

DAY6

Dec.31
SAT.

SEOUL
TO
MANILA
HOTEL >> INCHEON INTERNATIONAL AIRPORT(7:45) >> MANILA INTERNATIONAL AIRPORT
B:---
L:---
D:---
<IT CAN BE SUBJECT TO CHANGE AS THE LOCAL SITUATION>
---
◆DOWNLOAD FLYER: SEOUL KOREA 6D/5N DEC. 26 - 31
---
INCLUDE:
★ROUND TRIP AIRFARE via ASIANA AIRLINE
★ALL TAXES, TRAVEL TAX & CHECK IN BAGAGE
★HOTEL 4 NIGHTS @ IBIS AMBASSADOR with Breakfast
       1 NIGHT @ WELLI HILLI SKI RESORT or SIMILAR
★MEALS, TRANSFERS & TOURS BASED ON ITINERARY WITH PRIVATE TOUR WITH ENGLISH SPEAKING GUIDE.
★TIPPING & SWAB TEST UPON ARRIVAL TO KOREA.
EXCLUSIONS:
★TRAVEL INSURANCE: PHP 2,245 (1 - 59 YEARS OLD)
★SWAB TEST BEFORE LEAVING THE PHILIPPINES.
★VISA FEE: PHP 1,200
★MEALS NOT SPECIFIED IN ITINERARY.
REMARKS:
★RATE USD:1,388 (BASED ON TWIN SHARING)
DAY 1


MANILA(12:15) >> INCHEN(16:55)
DAY 2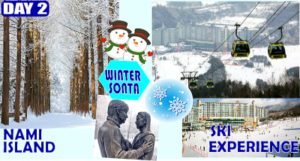 Nami Island
Nami Island is located of east 50 kilo meters of Seoul. And this place is very famous as the shooting place of the drama "WINTER SONATA".
SKI RESORT - HALF DAY SKI EXPERIENCE
at WELLI NILLI SKI RESORT
WELLI NILLI RESORT is located at Gangwan province, for skiing and snowboading. There are totally 12.3 kilo meters, for beginners easy slope: 3 km, for intermediate: 4.3 km, for advance skills difficult slope:5 km.
SKI OPTIONAL : Ski Equipment : USED 35 / person
              Ski Suit : USD 15 / person
Enjoy tayo skiing !!
DAY 3
STRAWBERRY PICKING EXPERIENCE
A period from Winter to Spring is the best season of STRAWBERRY in South Korea. The Seoul city suburbs are famous area as a producing district of the strawberry.
Enjoy red and sweet strawberry piking!
LOTTE WORLD
LOTTE WORLD is one of the world`s largest theme park, located Seoul city. And it consists of indoor facility, named "Adventure" and outdoor one, named Magic Island" and has various attractions, shows and parades.
(WITH PASSPORT)
DAY 4
NATIONAL GINSENG GALLERY
The GINSENG is one of the Chinese medicine which is famous from several thousand years. You can see all of the Ginseng, History, effect and others.
COSMETIC SHOP
KOREAN COSMETICS is already very famous as one of bland of fashion. You may find your own cosmetics.
COEX MALL W/ STARFIELD LIBRARY
STARFIELD COEX MALL is a huge mall to be directly connected with subway stations in Seoul city. There are various fashion, accessory, cosmetic shop, restaurant, cafe, book shop, aquarium, movie theatre, LIBRARY and so on..
PAINTER`S HERO SHOW
Drawing picture while dancing to music...Music Art Performance.
Modern Art..., Portrait, Black-Ink painting..., AMAZING!!
HONGDAE PICASSO STREET
Streets are like modern art gallery.
DALGONA CANDY(SQUID GAME) EXPERIENCE
Dalgona, Korean Sponge Candy is known by the survival drama "SQUID GAME" which Netfilix delivers.
DAY 5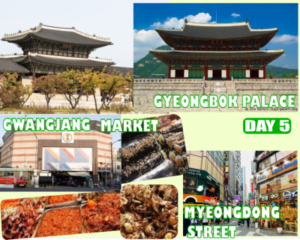 Gyeongbok Palace
Gyeongbok Palace is one of five,5, royal palace in Seoul city.
It was built in 1395, was the main royal palace of the Joseon dynasty.

Gwangjang traditional Market
Gwangjang traditional Market is one of the traditional market and located in the central par of Seoul city. The food market is famous in particular, Gimbap, Nokdu jijim and others.
Myeongdong Street w/ duty free
Myeongdong street is Seoul outstanding tourist spot, consists of Department store, Boutique, Restaurants, Trendy shop, Duty Free and some Street stalls.
DAY 6
INCHEN(07:45) >> MANILA